The website
e-Devlet is a website created by the Turkish government in order to facilitate transactions for citizens without having to go to some administrations that required the presence of a person to complete them, which made life easier and easier, and this is not limited to Turks only, but it can be used for residence holders of various types, and even for holders as the card of Temporary Protection.
Smartphone application
The services of "e-Devlet" are not limited to the website, but it has an application on mobile smartphones and is characterized by ease of use, with the advantages of meeting many of the needs of citizens' concern.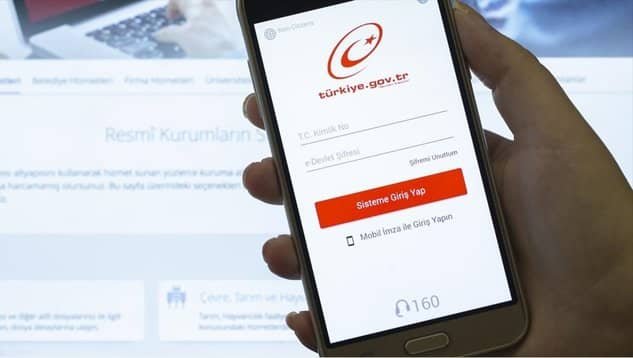 Services that Foreigners Can Benefit From:
The services provided to the citizens of the Republic of Turkey, Blue Card holders, and foreigners who have a residence permit (or valid work permit) and foreigner identification number can be generally grouped as follows:
Information services
Integrated electronic services
Payment transactions
Shortcuts to institutions and organizations
In addition, the sharing of information and documents between public institutions is provided by the services offered by e-Government.
Social security and health care,
Monitoring of working hours,
Querying the criminal record and creating a Judicial Record Document,
Inquiry of Court Case,
Applications for motor vehicle registration, vehicle tax, tax, and incentives,
Penalty Inquiry Written On The Vehicle Plate,
Driver's License and Criminal Inquiry Written to Persons,
OGS (Automatic Pass System) Pass Information Inquiry,
Fast Pass System (HGS) Account Information Inquiry,
List of mobile phones under your name,
IMEI Registration for mobile phones sold abroad,
Tax debt
Information about agricultural land,
Application to the Turkish Employment Agency,
Registration and student tracking at universities,
Making a BIMER Application,
TCIP Police Interrogation,
Deed Information Inquiry,
Address Change Notifications,
Citizenship proceedings.
All documents created and downloaded on the e-devlet portal have the required certificate with an e-signature displayed in barcode format and are valid in all official transactions.
How to Create an E-devlet Account
To sign up to the platform, the name of which translates to e-government, and open an account, you will first and foremost need a "yabancı kimlik numarası" (foreign national identification number).
You don't need to get an e-devlet password and instead can use your internet banking credentials to log in.

If you don't have a Turkish bank account

With your ID number, passport, Turkish cell phone, and residence permit, you will need to visit your nearest PTT (Turkish Postal Service) office.

Once you tell the clerk you are there for an "e-devlet şifre" (password), they will put in your cell number, and send you via text your password to log onto the portal. You will be asked to change it after your first log-in. Later, you can even set up e-signatures or mobile signatures for quicker access.
If you forget your password, you can utilize your mobile or e-signature to gain access or log in via internet banking. If you still have trouble, you can always go to a PTT branch to reset your old password in exchange.
You can also check our post about Required Documents for Turkish Citizenship Application
Related Posts