Turkish Citizenship by Investment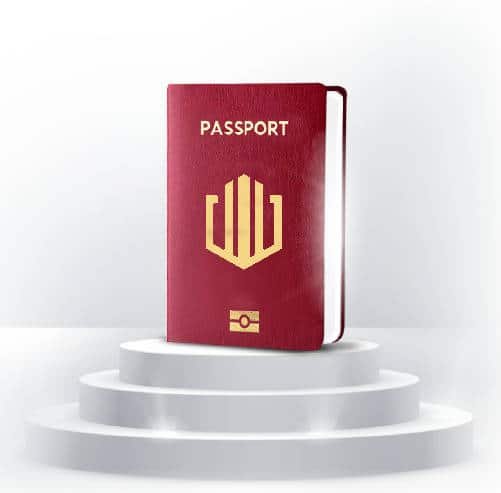 BENEFITS
Being a Turkish citizen brings many benefits both for investors and their families in terms of social life, financial opportunities and easy travel. Turkey guarantees the welfare and future of them with free healthcare and education services provided to its citizens.
The program also provides shortcuts for relocation in the UK and the USA under special visa categories suitable for Turkish citizens. Foreign investors may begin the process of becoming British citizens by relocating to the UK as a beneficial extension of the agreements between the two countries. Besides, there is the possibility to live in the USA by having an E-2 investment visa.
Foreign investors can buy real estate as residential property or as a prospective asset with the possibility of a high return on investment. Turkey has an extensive selection of comfortable residences and luxury seaside villas at appropriate costs for all budgets. Foreign investors may also gain rental income from their real estate investments or sell them after a 3-year period of restriction.
REQUIREMENTS
There are different options and requirements to get Turkish citizenship.
The easiest and fastest option is to become a Turkish citizen by purchasing a property worth $400,000.
Those who have purchased a minimum of $400,000 worth of housing, workplace, estate or similar properties can initiate their application process by proceeding to The General Directorate of Land Registry and Cadastre.
The documents requested by the government institutions should be prepared in accordance with the legislation.
After the application to The General Directorate of Land Registry and Cadastre, real estate appraisers check if the purchased property is worth $400,000 or not.
The applicant must hold the property for a minimum of 3 years.
Visa-free access to more than 115 countries
Turkish passport grants visa-free access to over 115 countries from all over the world, such as Qatar, Japan, Argentina, South Africa, and Ukraine. While most of these countries can be entered without the need for a visa in advance, some countries allow entry with a visa on arrival or an online visa. Also, in the context of agreements and negotiations between Turkey and the EU, the advantage of having visa-free access to many European countries in the Schengen area with Turkish passport is expected to be provided in the near future.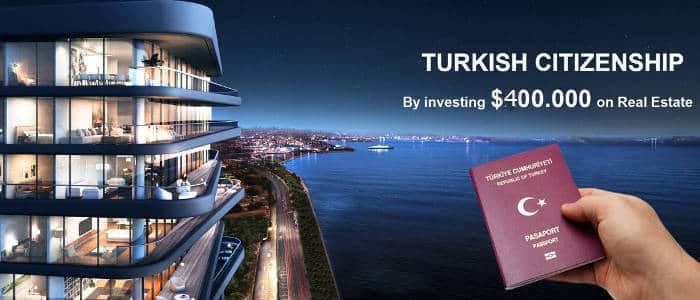 THE RENEWED TURKISH CITIZENSHIP PROGRAM
The last decision about foreign investors acquiring the right to Turkish citizenship was made in may 2022. According to this, foreign investors must invest at least $400,000 in real estate to gain citizenship. Foreigners who bought real estate worth $400,000 in Turkey have the right to apply for Turkish citizenship. This right not only applies to the investor but also to their legally married spouse and children under 18.
Citizenship by investment program in Turkey
Path to Turkish citizenship through profitable investment
1.TALK TO IMMIGRATION CONSULTANTS IN IZMIR ESTATE
3-4 Days Preparation
izmir estate's immigration consultants will assess your personal conditions and assist you in choosing the most suitable investment option. The main applicant may also add dependents to a residency application, including his/her spouse, children under 18 years old, and disabled children of any age.
2.PREPARE DOCUMENTS
A comprehensive checklist will be given, and you will be supported through the process of collecting documents. Experienced immigration consultants will review all documents to ensure the requirements are met.
3. COMPLETE INVESTMENT
Before proceeding with the citizenship application, investors are required to open a bank account in Turkey and complete the investment (i.e. real estate title deed transfer, cash deposit, government bond/share purchase etc.)
4. SUBMIT CITIZENSHIP APPLICATION
30-60 Days Processing Time
Investors can immediately apply for citizenship once the residence permit is granted. No physical presence or interview is needed during the application process.
5.APPLY FOR RESIDENCE PERMIT
Investors are required to hold a valid residence permit at the time of their citizenship application, but they may continue to live abroad as long as they want. The residence permit will be issued on the day of application.
RECEIVE TURKISH PASSPORT
Get Turkish citizenship within only 60 days and enjoy all the advantages that come with it. As a naturalized Turkish citizen, an investor seeking to start a business in the UK or the USA would enhance chances to do so and be able to consider relocation along with their entire family.
Some citizenship proper properties
Frequently Asked Questions About Turkish Citizenship